Posted: 3 December 2019
South Australia's transition to a cleaner energy future has taken another major step forward this week with the official start of construction on Australian Gas Networks' (AGN) pioneering hydrogen production facility at Tonsley Innovation District, the nation's renewable energy hub.
The hydrogen will be produced at Hydrogen Park SA (HyP SA) by Australia's biggest electrolyser using renewable electricity and water. It will then be blended with natural gas and delivered through the existing gas network to more than 700 homes in neighbouring Mitchell Park as part of a five-year demonstration project, at no extra cost to the residents.
Future applications of the hydrogen produced include tube trailer filling facilities that enable it to be transported to industrial users and hydrogen vehicle refueling stations.
There will also be the potential to export hydrogen to countries like the Republic of Korea, Japan, China and Singapore, which have committed to basing their economies on hydrogen.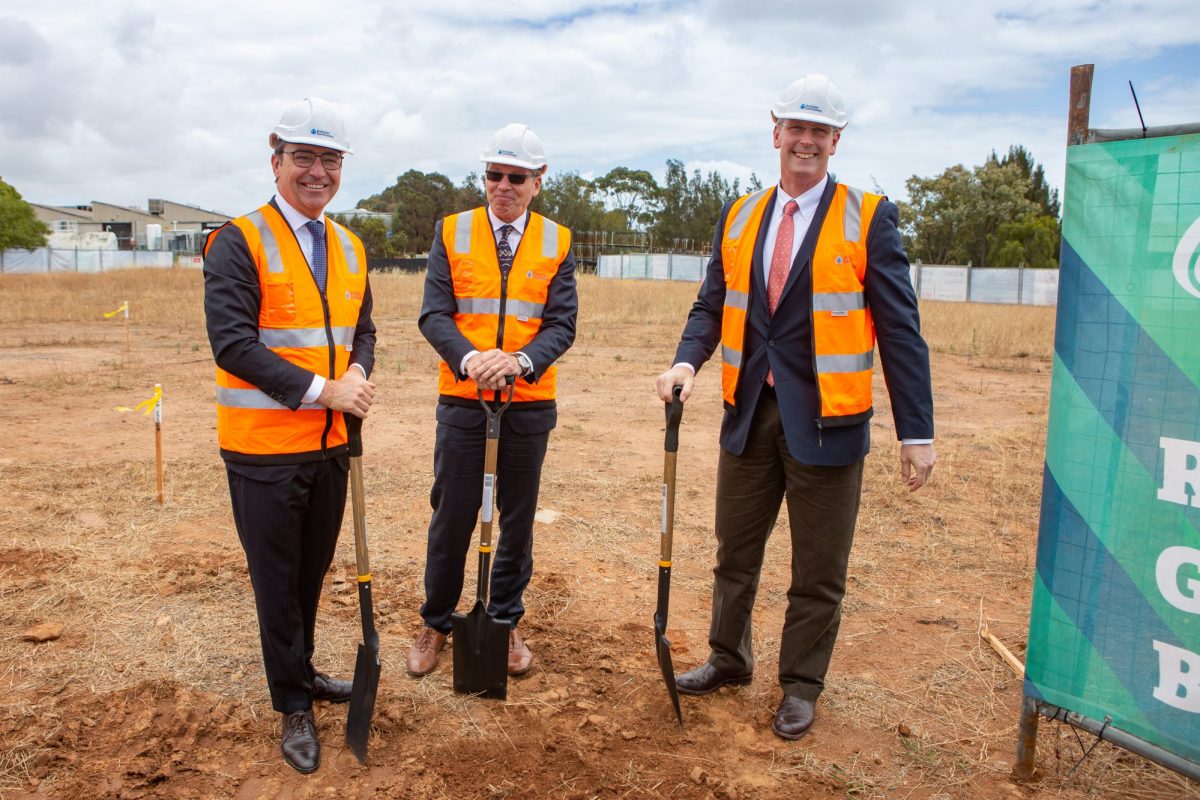 Premier Steven Marshall and Energy and Mining Minister Dan van Holst Pellekaan joined AGIG General Manager of Network Operation Mark Beech for a ground-breaking ceremony at the HyP SA site yesterday.
Adelaide-based AGN, part of Australian Gas Infrastructure Group (AGIG), expects the $11.4 million HyP SA facility to start renewable hydrogen production around mid-2020.
The project is being supported by a $4.9 million grant from the South Australian Government.
Minister van Holst Pellekaan said HyP SA would strengthen South Australia's status as a leader in renewable energy technology and a first mover in hydrogen production.
He said the Mitchell Park project would demonstrate how integrating electrolysers into electricity and gas networks could support energy stability.
"This is particularly important as more renewable electricity generation capacity comes onto the grid," the Minister said.
"Producing a clean burning gas like renewable hydrogen supports Energy Networks Australia's plan to advance gas networks towards net-zero emissions by 2050."
The Minister said South Australia was also working towards exporting hydrogen made from the State's abundant sun and wind resources.
The 1.25MW Siemens proton exchange membrane electrolyser for HyP SA will arrive early next year and will use renewable electricity to split water into oxygen and hydrogen gas.
AGN Chief Executive Ben Wilson said HyP SA represented the first step towards decarbonising South Australia's gas networks.
"Many solutions are needed for Australia to meet its emission reduction targets and that includes gas stepping up to play its part," he said.
"Developing the hydrogen economy will also play a key role and the momentum around hydrogen is building with burgeoning research and development underway.
"Commercial hydrogen production is achievable and can decarbonise Australia's energy mix while at the same time accessing export markets.
"When burnt, hydrogen does not release any carbon emissions, only water and heat so it is essentially just another gas we can use in place of, or blended with, natural gas to provide energy and heat. Customers receiving the blended 5% renewable gas will not notice any difference in their gas supply," Mr Wilson said.
HyP SA joins other innovative organisations in the renewable energy and cleantech sector at Tonsley Innovation District. These include Tesla and members of the Tonsley Future Energy Consortium, comprising SAGE Automation, AZZO energy management, SIMEC Energy Australia and ZEN Energy from the GFG Alliance, and EfficientSee energy consulting.
Work has begun on Tonsley's District Energy Scheme – a first for South Australia – which will be powered by one of Australia's largest rooftop solar arrays. When complete, approximately 20,000 solar photovoltaic panels will be installed with a total installed capacity of up to 6MW providing power for Tonsley businesses, organisations and residents. The scheme is owned and operated by Enwave Energy.
With the support of research from on-site tertiary institutions, these businesses and initiatives are at the forefront of cleantech and renewable energy innovation.
More on HyP SA https://www.agig.com.au/hydrogen-park-south-australia