Why Tonsley
Tonsley has been designed to support businesses and organisations located within the innovation district to innovate and grow sustainably. This is achieved through a mix of benefits that are available to all those that choose to call Tonsley home.
Ten Reasons to Call Tonsley Home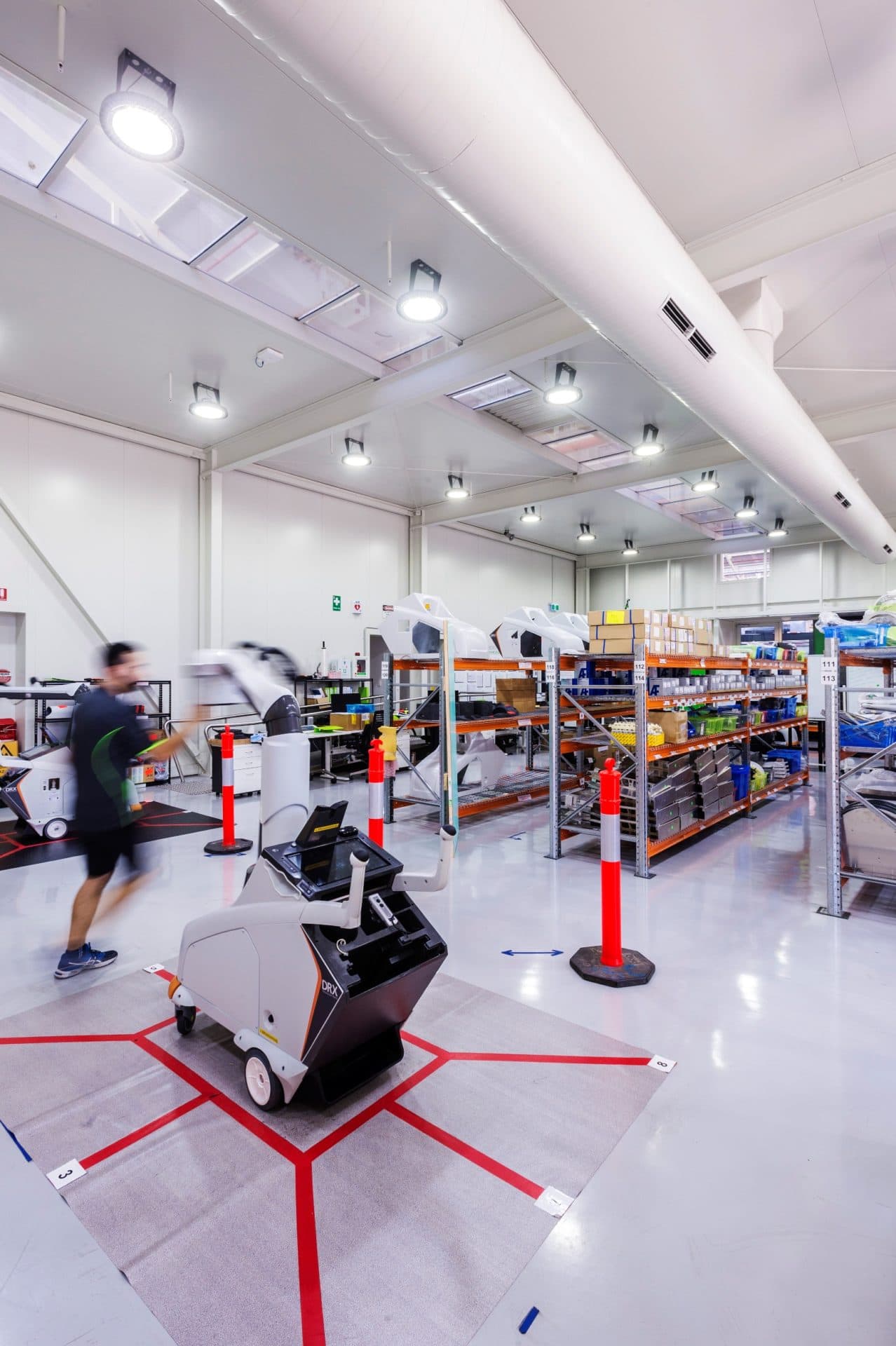 Our target industry sectors relate to the industry clustering concept of "related variety", where the greatest opportunity for innovation is between organisations where there is enough common ground to start a relationship, but enough differentiation for each party to bring new expertise into a collaboration.
Curating the business community by maintaining a focus on high-value manufacturing and Tonsley's four focus sectors ensures that the benefits of "related variety" are realised. Tonsley's collaborative potential is further enhanced due to the co-location of research and industry.
Businesses and organisations considering locating at Tonsley are required to meet the criteria of our Suitability Assessment to ensure the "related variety" benefits can be realised by all.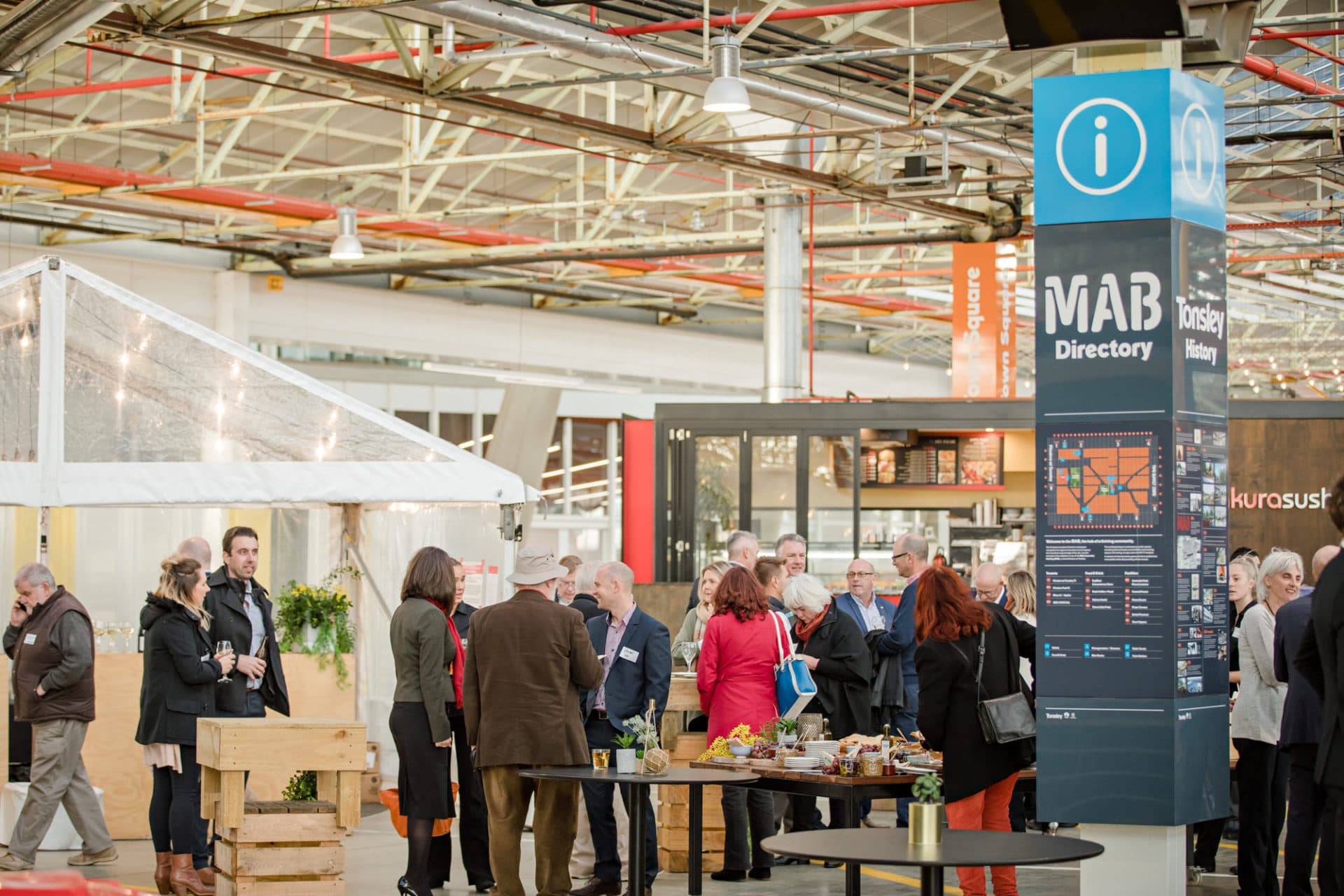 Optimised for collaboration
As per the Innovation District Model, Tonsley mobilises the district's networking assets to create a thriving innovation ecosystem.
Business-to-business and business-to-research collaboration is actively encouraged and facilitated in numerous formal and informal ways.
This includes directly establishing connections with private and public sector counterparts and research institutions in and around Tonsley, providing and supporting regular networking and industry events, facilitating sporting competitions, fitness programs and other activations.
Businesses at Tonsley also gain ongoing national and international exposure to targeted industry stakeholders that can lead to business development opportunities.
"There's cohabitation, there's collaboration and there's innovation. The beauty of the Tonsley site is that it brings it all together."
John Azzolini, Managing Director, AZZO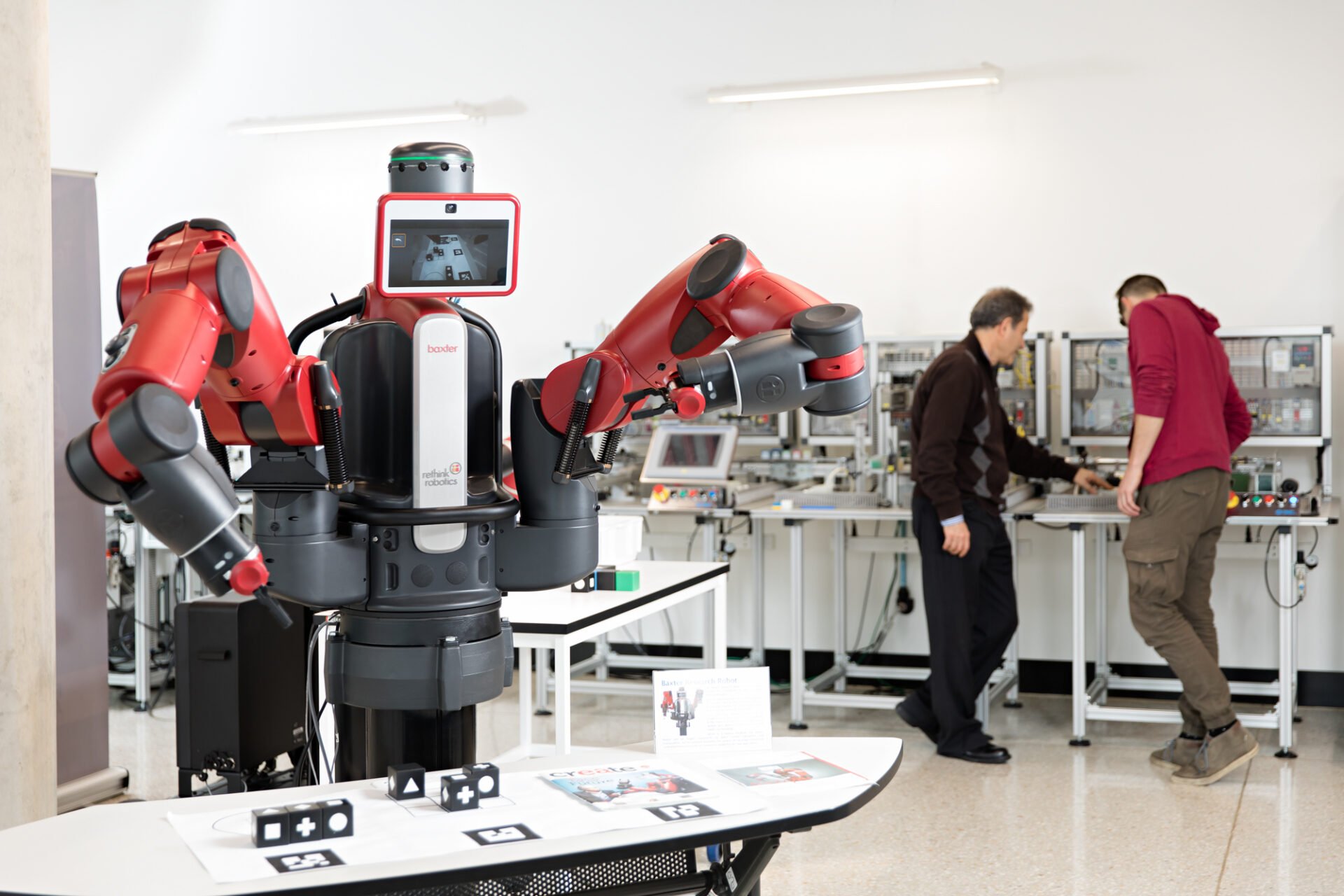 Access to a skilled workforce
Tonsley's collaborative culture means the education institutions in the district are heavily embedded in industry activity – so there's a skilled workforce that is readily employable on your doorstep. Together, Flinders University and TAFE SA have over 8,000 students studying and training at Tonsley every year.
Flinders University's College of Science and Engineering is preparing graduates to work in the industry sectors that are a focus for Tonsley – with core high-value manufacturing capabilities a primary focus.
TAFE SA has a proven record of forming partnerships with businesses at Tonsley to provide industry relevant training.
Kuzer Technical is a national leader in providing teaching and research in the non-destructive testing community.
In South Australia, you will find advanced supply chains with a skilled workforce developed over 100 years of manufacturing history.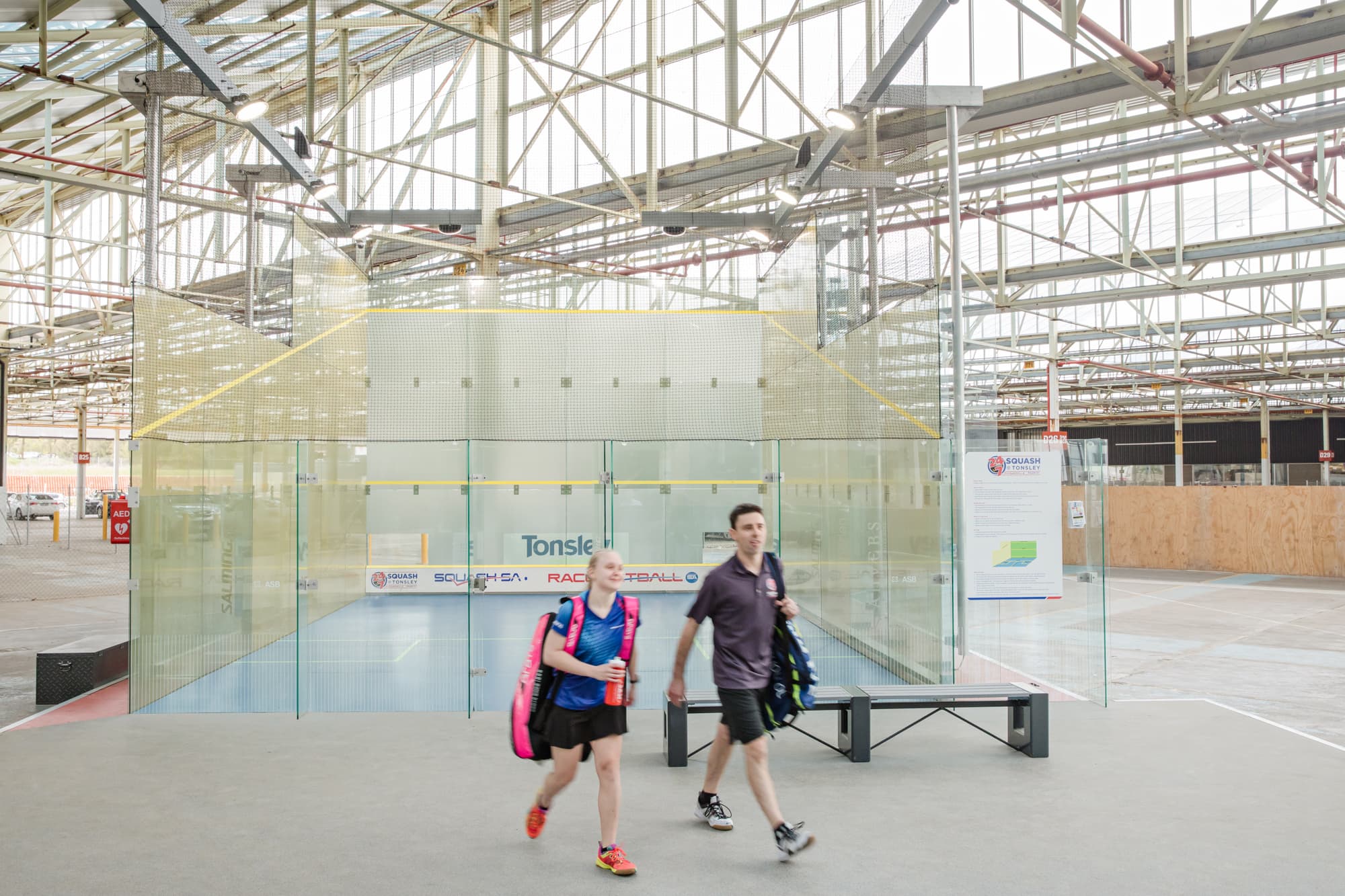 High quality, mixed-use, urban redevelopment is an essential feature of Tonsley to meet the demands of knowledge-intensive industries and innovative businesses seeking to attract and retain highly-skilled people.
Tonsley is being developed to integrate residential, retail, leisure and work, with easy access to public transport and global access to fast internet connectivity, enabling a seamless blend of work and life.
A number of retail services and recreational areas are available including a town square, forests and plazas, cafés, table tennis and a world-first 24/7 all glass squash court.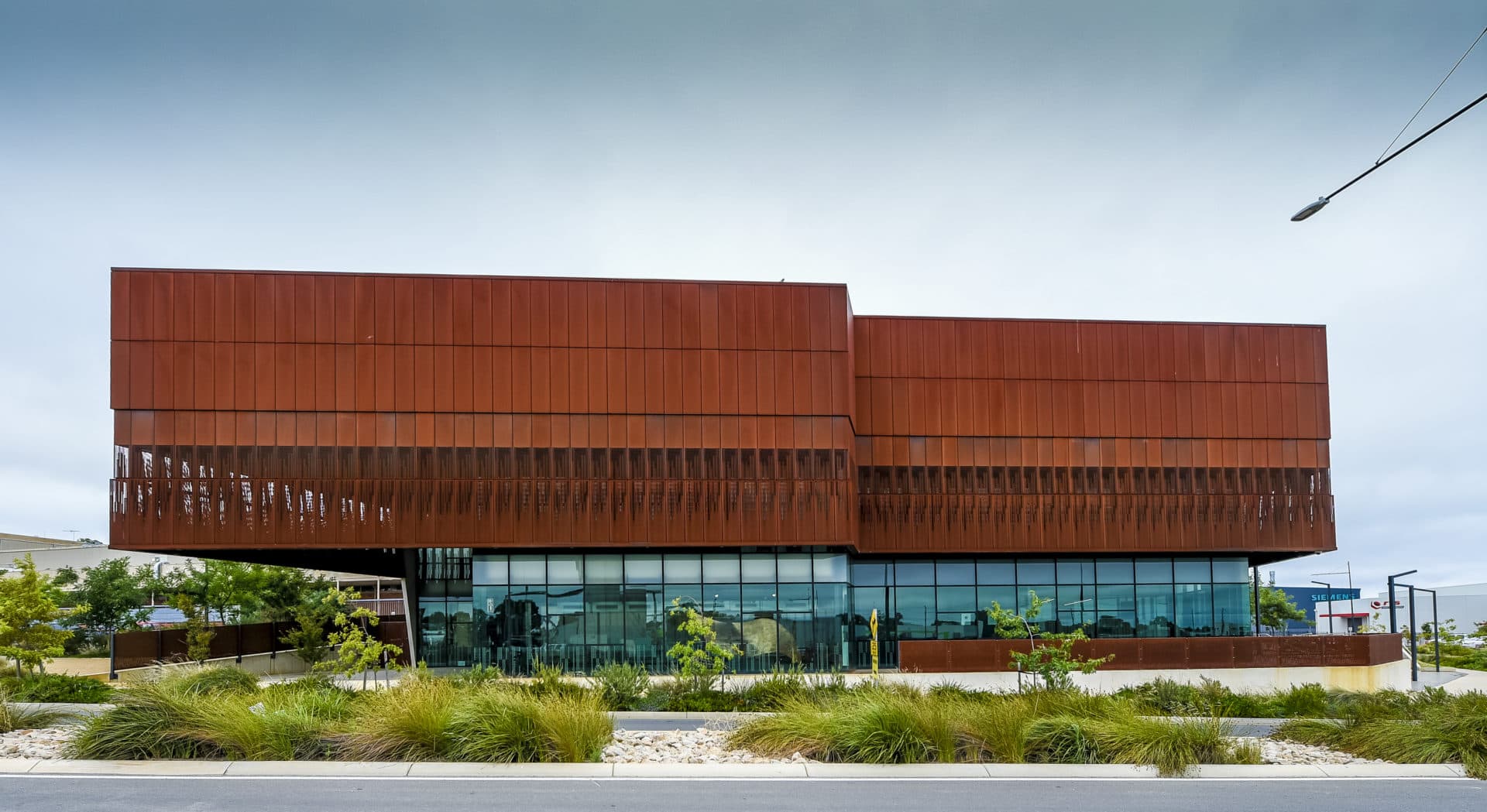 A Variety of Shared Facilities
Tonsley features a range of rooms, theatres, labs and spaces that extend business development opportunities and may be used for product launches, training, workshops, board meetings and more. Facilities include:
Formal and informal meeting and event spaces, such as the Tonsley Pod, Town Square, Central, Plaza and Foyer Forests, Western Plaza and cafés
Two lecture theatres (80 and 120 person capacity) within the Flinders University building
Boardrooms and function rooms within TAFE SA's facilities, South Australia Drill Core Reference Library and the Administration Building
Research and training labs within the Flinders University building such as the advanced surgical training facility, biomechanics and implants lab, advanced material lab, digital fabrication lab and serious gaming and haptics lab.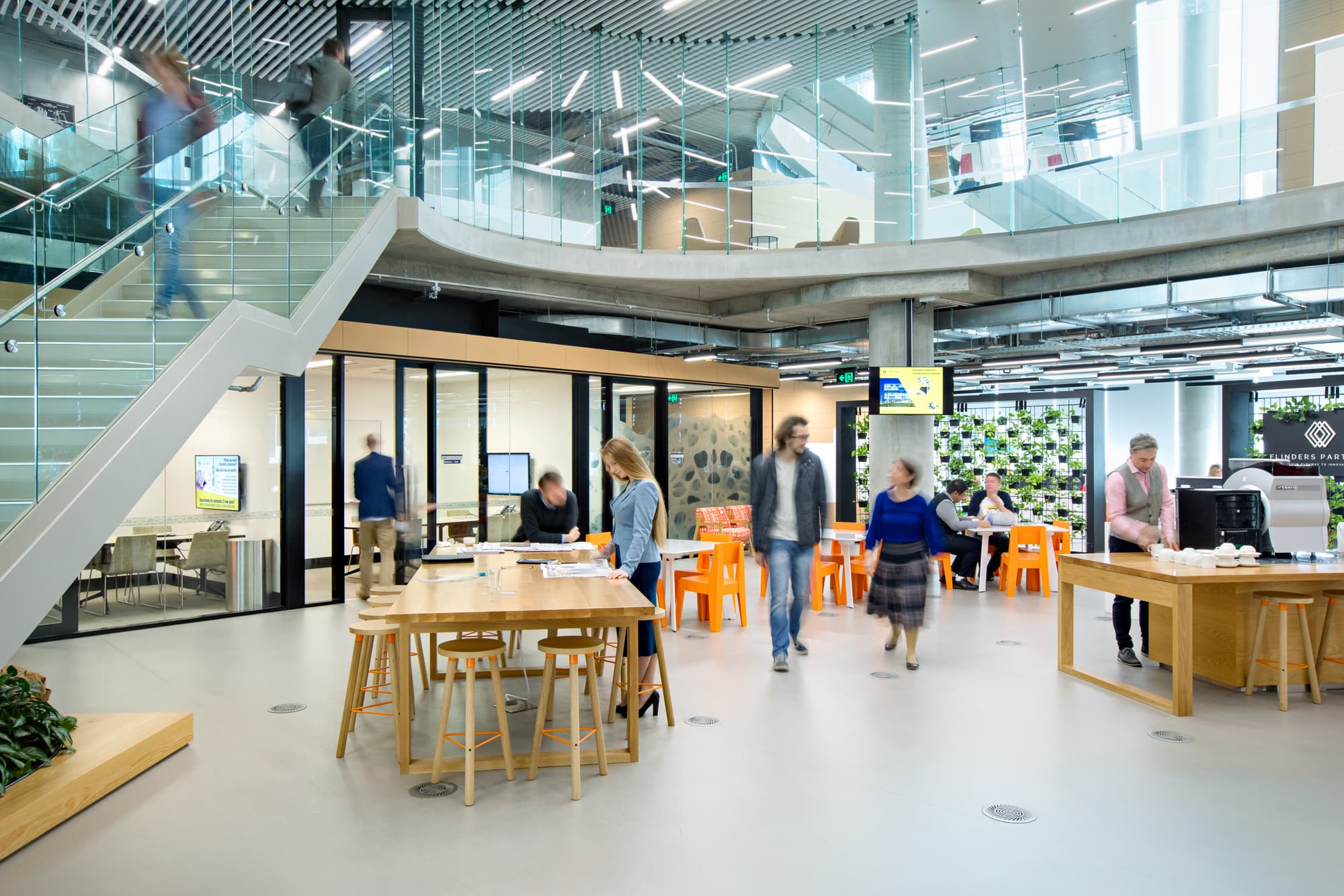 The location of various commercialisation, incubation and business support services at Tonsley adds to its strong entrepreneurial focus.
Tonsley's entrepreneurial support network includes: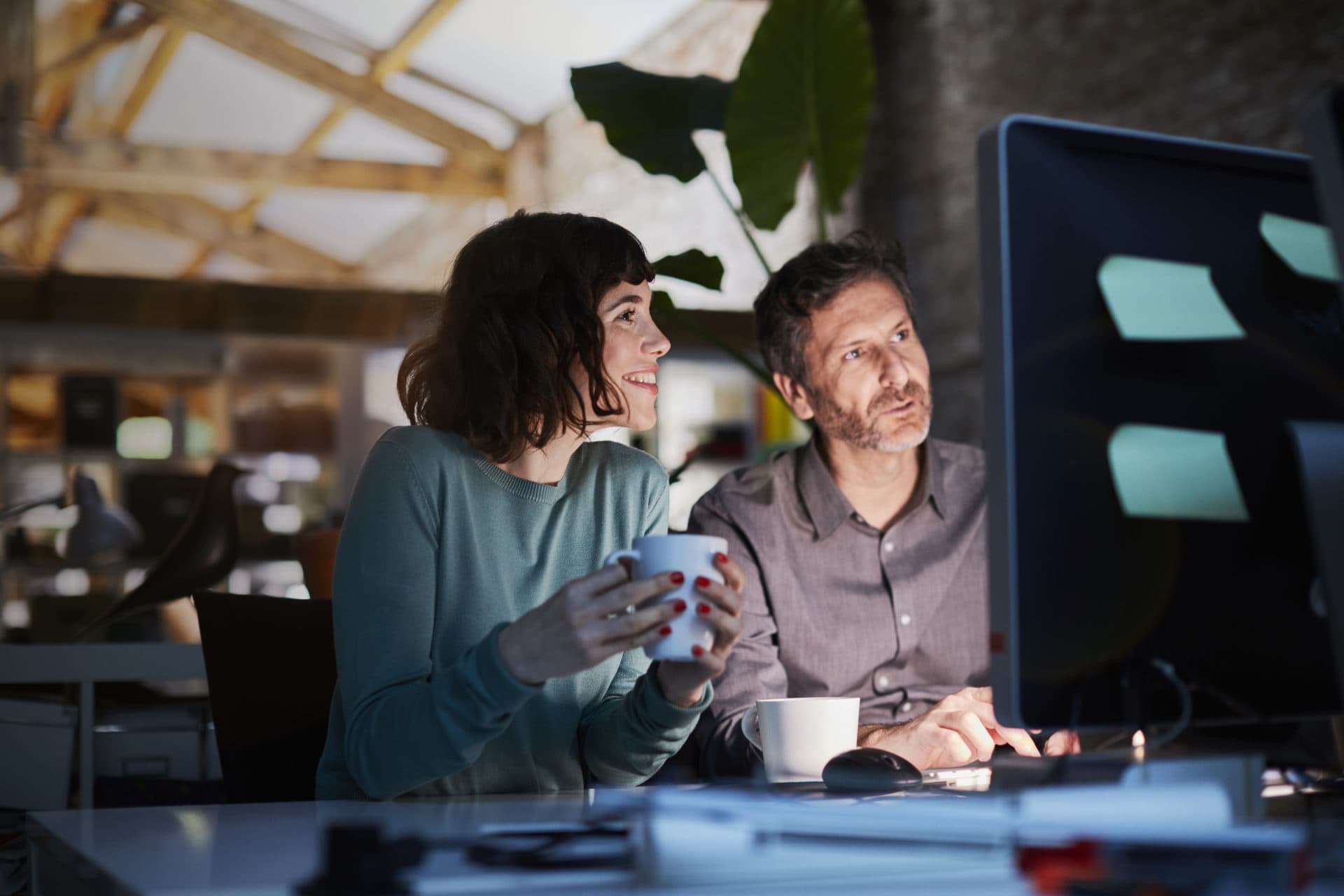 Connected Physically and Virtually
Tonsley's strategic location and world-class telecommunications infrastructure connects businesses in the district with Adelaide and the world.
Tonsley is located in close proximity to:
Adelaide CBD (10km, 20min by car/train)
Adelaide Airport (12km, 20min by car)
Flinders Medical Centre and Flinders University (2km, 5min by car/train).
Tonsley is connected to GigCity:
Offering gigabit internet speeds of up to 100 times the national average at affordable costs from AU$49.90 per month
GigCity opens the door to new collaborations and opportunities to develop high-tech applications – from image processing and simulation, to big data analytics and cloud computing.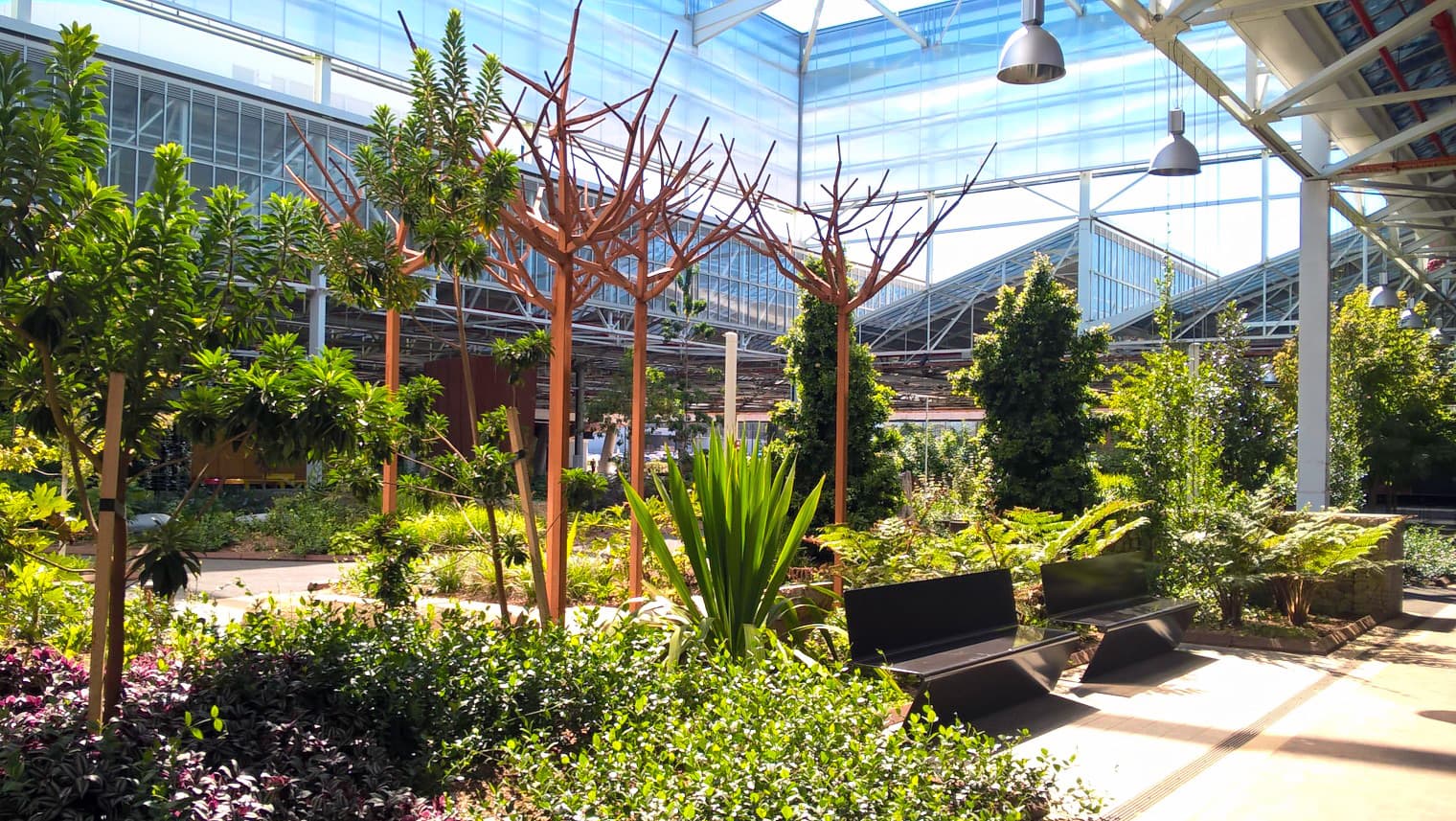 Multidimensional Sustainability
Tonsley has been recognised as a world-leader in sustainability being Australia's first urban renewal development to receive the internationally recognised 6 Star Green Star – Communities certification. Tonsley's 6 Star rating was recently re-attained following a re-certification process.
Taking a multidimensional approach, Tonsley addresses sustainability across the following categories:
Liveabiliity
Economic Prosperity
Environment
Design
Innovation
Governance.
Current and planned sustainability features at Tonsley include:
The adaptive re-use of the former automotive manufacturing Main Assembly Building, preventing the loss of approximately 90,000 tonnes of carbon emissions.
The retention and redevelopment of the Western Plant and Boiler House facilities continues Tonsley's commitment to adaptive reuse.
A public place where water sensitive urban design principles support sustainability and reduce operating costs. This includes on-site rain gardens and the use of recycled water from a nearby wetlands.
A regional integrated transport approach that includes walking and cycling paths for easy access to public transport, end-of-trip facilities, such as showers and bicycle repair stations, and a car share scheme.
The District Energy Scheme will reduce greenhouse gas emissions while increasing resilience to the existing national electricity grid supply.
""Tonsley has become an exemplar for high quality, sustainable urban renewal, both in Australia and around the world.""
Romily Madew, CEO, Green Building Council of Australia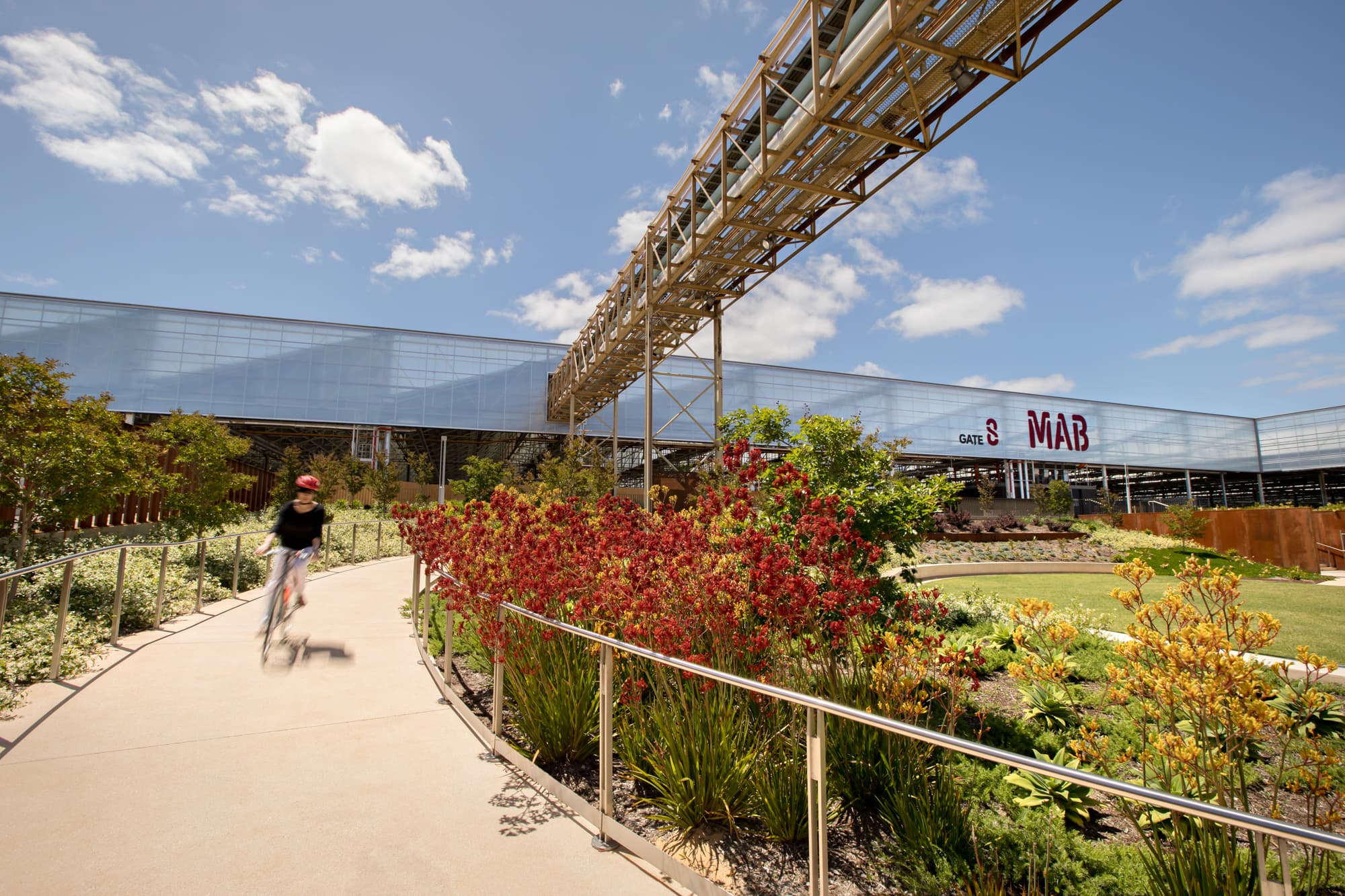 The physical design of Tonsley's redevelopment has been undertaken with the idea of supporting innovation.
Tonsley is pedestrian friendly and there is a network of high quality formal and informal places for people to meet and exchange ideas – important for encouraging collaboration. Designers are now referring to these kinds of physical features as "collision spaces" that support serendipitous networking that can lead to the kind of knowledge spill over that feeds innovation.
Tonsley's design excellence has been acknowledged with over 20 prestigious industry awards, including  international acclaim, winning the 2015 World Architecture News Award for Adaptive Reuse.
Other notable awards include:
2021 Urban Development Institute of Australia Award for Innovation in Development
2018 Property Council of Australia Award for Best Development Innovation
2017 National Good Design Awards for Sustainability and Best Overall Architectural Design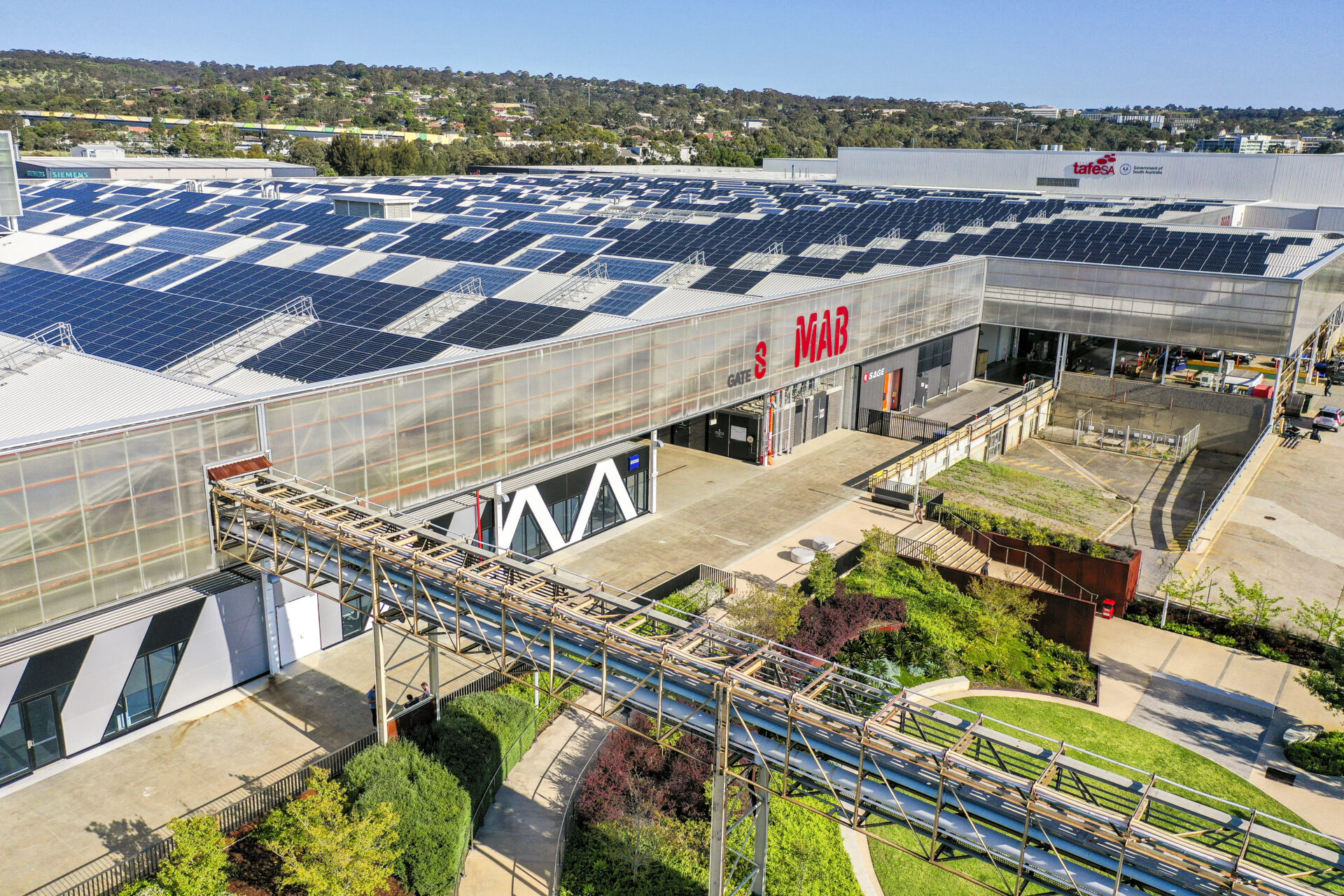 The Main Assembly Building, known locally as the MAB, is a central and key feature of Tonsley. The adaptive re-use of the former automotive Main Assembly Building respects the industrial heritage of the site and creates its unique identity.
The MAB acts as a figurative and literal 'umbrella', helping create a focus for business and community activities.
It offers an adaptable and flexible floor plan with options for businesses to occupy purpose-built tenancies as well as smaller modular accommodation.
The building features contemporary public spaces including internal forests, exhibition and meeting spaces, with eating and lounge areas and Wi-Fi hotspots. The MAB is Tonsley's social hub, attracting workers, students, residents and many local and international visitors and dignitaries.